mY Design Featured in Baby, Kind & Meer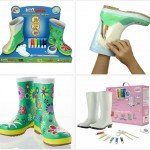 Big thanks to everyone at Baby, Kind & Meer for their shout out and kind words about our Paintable Boots Kit.
We've got children's Paintable Boots up to size 9 (US) and  women's Paintable Boots sizes from 5-10 (US).  Makes a great Mommy and Me project that will create memories both will treasure forever.
Spending time with your children and nurturing their creative expression and then testing out your new boots in a few mud puddles is right up there as one of the most perfect days a child can have.
Make some memories today!