How to Paint Shoes with Zero Talent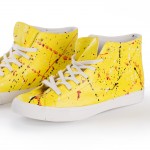 Tired of boring store-bought shoes? Want to express your inner self? Always wanted to paint your own shoes but never had the courage to try?
Want shoes that look like this?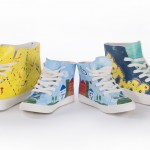 Just follow these simple instructions to paint your own shoes.
You'll need:
A Paint Your Own Shoes kit by My Design
Masking tape
Newspapers or a sheet you don't mind never using again
Once you have your shoe painting supplies,
1. Find a flat hard surface.
2. Cover the surface with newspaper or a sheet you don't want anymore
3. Get out your shoes and your paint.
4. Protect the edge of the soles of your shoes with the masking tape.
A table is usually best.
Don't want your table getting messy while you paint your shoes!
Be careful to line it up with the very edge of the shoe to keep the bottoms of your shoes
a bright white.
5. Paint the surface of the shoes any solid color.
I like yellow
6. Let the shoes dry for 5- 10 minutes .
7. Mix up several bright colors of paint.
8. Load your big brush with one color.
9. Flick it madly at the shoes.
10. Repeat with different colors until satisfied.
11. Congrats! You've just made your first pair of amazing paint your own shoes modern art!
12. Let the shoes dry for 12 hours.
13. Wear them wherever you want, whenever you want, in whatever weather comes your way.
14. Be fabulous!
You could go to a modern art gallery to get inspiration!
Hint: Purple goes well with yellow.
Hint: Red also goes well with yellow.
CLICK HERE TO WATCH AND LEARN NOW